Batchelder
USING THE CAMERA NOT TO PICTURE MORE CLEARLY THAT WHICH WE KNOW, BUT RATHER TO REVEAL THAT WHICH WE HAVE NO IDEA EXISTS-SUCH AS LANDSCAPES, CREATURES AND OBJECTS NOT YET SEEN OR PICTURED.
~ David Batchelder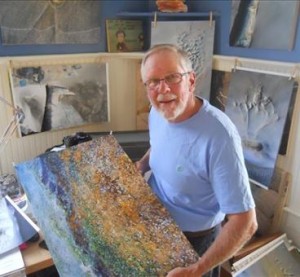 Born 1939 in Titusville, Pennsylvania; College Professor and School Principal-retired.
B.A., M.A. & M.F.A. in Art/Photography.
Group- "Vision and Expression", George Eastman House; "Light 7" M.I.T.; "Be-ing without Clothes", M.I.T.; Photovison 72", Institute of Contemporay Art. Boston; "Private Realities: Recent American Photography", M.F.A., Boston.
One Man- Bowdoin College, Brunswick, Maine; Exposure Gallery, N.Y.C.; Addison Galery of American Art, Andover, Massachusetts; Beaumont-May Gallery, Hood Museum, Dartmouth
College, Hanover, New Hampshire.
Publications: Aperture, Vol. 14:1,1969; Vol. 15:3,1970.
Public Collections: Addision Gallery of American Art, Fogg Museum, Harvard; George Eastman House; M.I.T.; Smith College; Bowdoin College; M.F.A., Boston; M.F.A., Houston; Hood Museum, Dartmouth College.

---
"THE WORLD IS NOT ONLY QUEERER THAN WE KNOW, IT IS QUEERER THAN WE CAN KNOW"
~ Haldane
I had not been on the beach long before I started seeing curious things. First it was shell fragments. They looked as if the were heads of strange animals- fish, birds, reptiles. They were crying out to me. More and more I was drawn to the beach. The more times I came to the beach, I saw even more things that were odder and odder. Ambiguous spaces; ambiguous objects. At times it was if I were seeing the beach from space. At other times I was seeing very un-beach like places. Beasts, creatures, and angels appeared. I was as if, as Alice, I had fallen through to another world- a world on the beach, but not the beach I thought I knew. Each day the wind and tide would change my beach world into yet another even odder landscape. Storms created worlds beyond belief filled with creatures that I came to see as benevolent.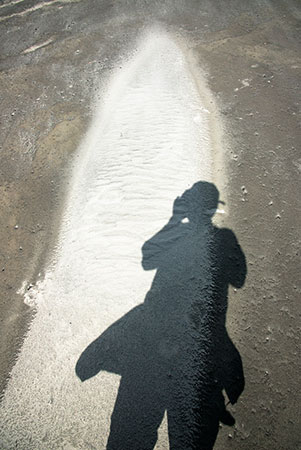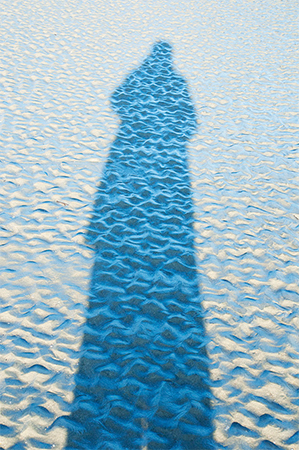 Seeing such things in my old age worried me. Perhaps I was hallucinating, having delirious moments. Was this the onset of my loosing my grip? These trips on the beach seemed to be more than the mere flights of fancy I have often taken. When I am on a beach, I am traveling so far out from the people on the beach that are all around me- playing boccie, sun bathing, building sand castles, that I am in another world. Soon, though, I became comfortable with this odd beach world and began embracing it. Even though it was certainly odd, it was inviting. Occasionally I found my self taking flight- shape shifting into a birdlike form- flying through and high over the beach, seeing new and curious landscapes and objects. I knew I was not hallucinating as I was able to take pictures of what I was seeing on these frequent adventuresome visual travels.
The beach I now travel and see and picture is not at all what I would have conceived had I set out to make photographs of a beach. My beach is every so more and more wondrous and enthralling, that I wonder more and more just what is going on with these travels and the images from my travels. Where do these landscapes, flowers, mountains, etc. come from? The beach of our everyday casual looking is rather baron- a mundane world but for its flatness and expanse. The beach I am encountering is certainly something from another world. People who have seen the beach photographs have said they too are now seeing odd things on beaches. Could there be the other world in all we think we know and believe we are seeing?
Save